Pop-ups - What are they?
 To reduce annoying advertising, most computer browsers have pop-up windows disabled as a default setting. In some courses there are scenarios and quizes which open in a new window. To make sure your computer lets you do this you need to enable "Pop-ups".
eg. If you go into one of the scenarios, it will open in a new window. If your pop-ups are enabled the scenario will start. This means your computer is set to allow "Pop-ups" already so you are ok to begin working through the scenario.
If the scenario does not start...... don't worry!
You should see something similar to the picture below.

The yellow bar is asking if you want to enable "pop-ups". If you click on the yellow bar you will be given a couple of options.
Turn pop-ups on or off
On your computer, open Chrome.
At the top right, click More .
Click Settings.
At the bottom, click Show advanced settings.
Under "Privacy," click Content settings.
Under "Pop-ups," select an option: Allow this site to show pop-ups.
As the healthLearn site is spam free - we recommend that you choose "Always Allow Pop-ups from This Site..."
The scenario/screen will reload and then you will be able to start the scenario.
(sneaky hint) If you get really stuck - try holding the <ctrl> key down when you click on the Enter/Start button
For Users of Google Chrome
Chrome features a pop-up blocker that can prevent new windows from opening. When it does, you'll briefly see the message "Pop-up blocked" in the address bar.
You can allow pop-ups from a site that you're visiting by clicking the blocked pop-up icon, selecting "Always allow pop-ups from [address of site]", and clicking Done.
For users of Apple Safari Browsers
How to enable or disable the pop-up blocker in the Apple Safari web browser.
Windows users select Edit > Preferences. Mac users click Safari > Preferences.
Click on Security at the top of the window.
Check the box Block pop-up windows to enable this feature. Uncheck it to disable it.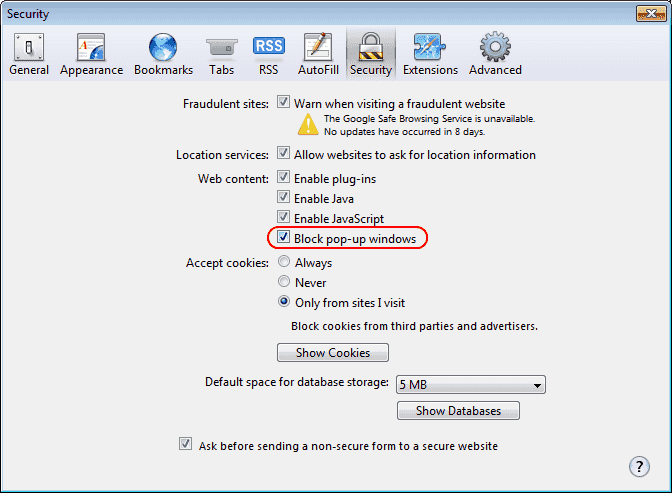 Additional Resources
Here is a link to a website that has information for other internet browsers that you may find useful
http://www.lbl.gov/ehs/training/webcourses/globalAssets/CourseRequirements/disablePopups/disablepopups.html